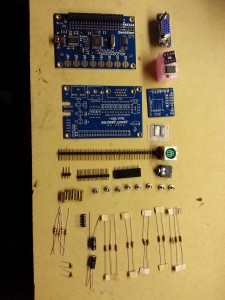 I was bored last night, so I soldered together a fully-functional computer from discrete components…! This is not entirely true – what I really did was assemble a Propellerpowered Pocket Mini Computer, which consists of a Parallax Quickstart CPU Board, VGAplus Board, and Universal MicroSD adapter kit. Assembly is easy, even the SMD microSD socket, thanks to the helpful assembly video for that component.
A mere hour and a half or so later (and I was assembling at a leisurely pace!), I was up and running with a computer that I had assembled much of myself, and from there proceeded through the accompanying Getting Started Instructable. I had purchased the pre-loaded microSD card, which includes PMC Basic, various non-BASIC binary Propeller apps, and a collection of SID DMP files. One of the coolest things about the PMC is that in addition to its general Commodore 64-like UI and functionality, it makes use of SIDcog to provide emulation of the legendary C64 audio chip! So of course one of the first things I had to do is BRUN "SIDPLAYR.BIN" – the results of which can be seen in the following video: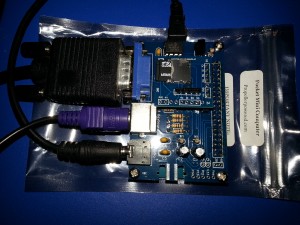 I am really pleased with my PMC so far. Assembly was straightforward, well-documented, and enjoyable, and best of all, successful! The COLOR BASIC language is a lovely flashback to my youth, spent hand-copying lines of code from the back of magazines, and the Propeller-based architecture will allow me to use it for all kinds of exciting things, and continue to build on knowledge gained from my HYDRA and Propeller Proto boards. I've implemented, yet not yet played with the optional IR receiver and 32K expansion, and look forward to trying the Wii controller connector. My next projects will likely be rolling my own TV-out video card, and wiring up a MIDI-IN to allow control of SIDcog via an external MIDI controller, e.g. iPad with CCK and USB-to-MIDI cable. My only slight disappointment so far was discovering the announcement of a new VGAPlus 256 kit on my first visit to the support forums, but at $12.99, it's an amazing deal, so I'll likely just pick one up while shopping for other accessories!