First Impressions
My first mobile computing device was an HP 95LX – an 8088-based, battery-powered Palmtop running MS-DOS 3.22. This was long before carrying any kind of electronic hardware beyond a digital watch was commonplace, and thus resulted in continual questions and curiosity from those observing its use. The HP 95LX, and 200LX after it, afforded me all sorts of opportunities for productivity, learning, and entertainment, as today's smartphones offer pretty much everyone. But smartphones today are boring, virtually indistinguishable slabs, designed for consumption over creation – and I try to spend most of my time creating, not consuming. I've various tiny laptops, external keyboards for tablets, and other cobbled-together solutions, but most of them require a fair bit of intention and planning to be productive – I have to remember to bring them to whatever situation where I might anticipate a few moments that could be harvested for bonus productivity. And I'm pretty good at anticipating and planning ahead, so often that works out, but still, that doesn't come close to just always having a productivity device on hand at all times.
So I was ecstatic when Planet Computers crowdfunded the Gemini – ditching my boring old slab (it's telling that I can't even recall what my prior phone was: Motorola something? or Samsung maybe?) for a Psion-inspired clamshell with a real keyboard! In an ecosystem designed for portrait-oriented slabs, the default landscape orientation was occasionally problematic with some apps, and taking pictures (with the user-installed 5MP camera module!) was a bit awkward, but overall the few sacrifices were worth it for a decent terminal with git, make, gcc, python, node, etc. and capable sshing into other, more powerful machines (without soft keyboards trying to "correct" shell commands into more common English words). The Gemini was a fantastic little workstation, although the keyboard was sometimes difficult to use in darker conditions, and my hinge and battery eventually went. But the Cosmo builds on the brilliant Gemini concept, with a better hinge, a backlit keyboard, a built-in 24MP camera with flash, and most excitingly of all, a FreeRTOS-based external AMOLED touchscreen to keep you in the loop on notifications, as well as enable selfies, dialing, and more while the clamshell is closed!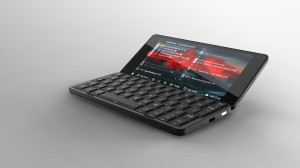 With only around 24 hours since receipt of my Cosmo, I'm already blown away by its evolution from the Gemini. Gemini owners will find the device familiar, yet vastly improved in key areas. The keyboard, as well as being backlit (with four levels of intensity) is somehow substantially better than its predecessor in typing feel and accuracy – I'm not sure what changed (other than the more matte finish), but the travel and responsiveness of the Cosmo keyboard is better than many current laptops! The new hinge mechanism, with added center supports, eliminates all "flap", yielding a nice "snap" on opening and closing. And the most exciting addition, the Cover Display, completely blew me away with its capabilities! Being part of the first production run, I was prepared for the software to not quite be fully fleshed out, but instead found it to be fully featured and well polished, with impressive integration into the main Android OS! I've yet to explore all of its capabilities, but its Pebble-like ability to display and manage notifications, control media, and get at-a-glance insight on various stati made me instantly fall in love (especially since my actual Pebble is connected to my Palm, not the Cosmo). I'm really hoping an SDK will be forthcoming – the four-way button (and fingerprint reader, which works to unlock the external display as well as Android itself) has me dreaming up all sorts of possibilities for those 570 x 240 pixels!
That's probably enough for a quick first look – this blog post has already served its secondary purpose of evaluating the real-world typing experience, since it was created entirely on the Cosmo itself!!